Try these muffin recipes to make your healthy meals for breakfast and lunch. You will be surprised at how easy it is to make your own healthy muffins with these easy recipes.
Whole-Wheat Muffin recipe– It takes 10 minutes to prepare and 10-15 minutes to cook. It makes 12 servings.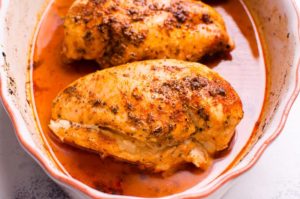 Ingredients:
1 cup whole-wheat flour
1 cup all-purpose flour
2 teaspoons baking powder
1/2 teaspoon salt
1 cup skim milk
1/4 cup honey
1/4 cup margarine, melted and cooled
1 egg, beaten
Vegetable cooking spray
Preheat the oven to 400 degrees. Combine the flours, baking powder, and salt in a large bowl, stir well. Make a well in the center of mixture. In a separate bowl, combine the milk, honey, margarine, and egg; add to the dry ingredients, stirring just until the dry ingredients are moistened.
I use liner in the muffin tin cups and cooking spray. Spoon the batter into muffin pans, filling each cup two-thirds full. Bake for 10 to 15 minutes or until lightly browned.Try not to over mix the batter, the muffins will come out tough.
Muffins always taste good in the morning with a glass of low fat milk, a cup of your favorite hot coffee, or hot tea. They are good with a bowl of hearty soup at lunch break. I used to eat those big and sugary store bought muffins until I discovered these easy recipes to make healthy homemade muffins.
Make them ahead by doubling the recipe so you can have one for breakfast and one for lunch with your favorite soup. What's left, you can put them in freezer bags and freeze them for your next meal.
It is best to use a 12-cup muffin tin and fill only the outer 10 tin cups with batters if possible. I like to use paper cups to line the bottoms of the muffin tins and use cooking spray so they wouldn't stick to the tin cup for easy removal. It also keeps the muffins moist and there is no cleanup.
Here is another Healthy Muffin Recipe. It uses baby applesauce and baby food bananas in the ingredients. The muffins come out moist and tasty. They have all the fibers that we need for our healthy eating. It takes 20 minutes to prepare, and you need to cook them for about 15-20 minutes. It is good for 12 muffins.
Ingredients:
1 cup whole wheat flour
2 teaspoons baking powder
1/2 teaspoons salt
1 3/4 cups cereal (Kashi Good Friends cereal)
3/4 cup skim milk
1 egg
1/4 cup honey
6-ounce jar baby food bananas
2 1/2-ounce jar baby food applesauce
Preheat oven to 375 degrees. Line muffin cups with paper cups and cooking spray. In a small bowl, stir together the flour, baking powder, and salt.
In a large mixing bowl, combine the cereal and milk; let it stand for 2 to 3 minutes. Add the egg and beat well. Stir in the honey, bananas, and applesauce. Add the flour mixture and mix only until the dry ingredients are moistened.
Divide the batter between the prepared muffin cups. Bake 15 to 20 minutes or until lightly brown. Everyone in my family loves these delicious and healthy muffins!