Use these wonderful fish recipes to cook your family's healthy meals in less than 30 minutes. Quick and easy recipes are simple to use for cooking salmon, catfish, cod and halibut. Low fat meals make with these fish recipes add important omega-3 fatty acids to your diets for a healthier heart and mind.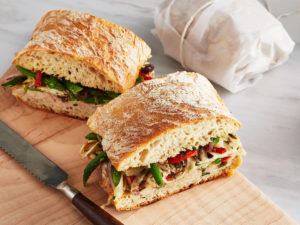 Broil Mustard-Dill Salmon
Salmon is our favorite fish at dinner time because it has the best taste and texture. In my opinion, I think dill and lemon bring out the natural flavor of most salmon, especially sockeye. The recipe also recommends halibut, cod and catfish as good substitutions. Of all the fish listed, I like salmon the most for this recipe. However, if you prefer, please try other fish and send us your opinion.
Serves: 4
Preparation: 10 Minutes
Cook time: 15 minutes
Ingredients :
1 pound salmon fillet (skinned)
lemon
2 tablespoon stone ground mustard or Dijon mustard
1 tablespoon chopped fresh dill or 3/4 teaspoon dried
Preheat broiler. Set oven rack in the middle. Rinse fish, pat dry, lay it down on a baking sheet. With a grater remove zest (yellow part of peel only) from lemon; squeeze 1 tablespoon juice from lemon. Mix lemon zest, lemon juice, mustard and dill. Brush mixture over salmon. I cover the salmon with aluminum foil for the first 10 minutes and remove it and cook it for another 5 minutes (to avoid burning the fillet) or broil salmon until opaque in center, about 5-6 minutes for 1/2 inch thick fillet; 10-12 minutes for 1-inch fillet.
Oven-Baked Cod Recipe A quick healthy easy recipe for fast dinner.
---
Cajun Salmon Steaks A delicious and easy healthy salmon recipe cooks in 20 minutes.
---
I am always in search of healthy foods for my healthy eating diets. I discovered not all fish is healthy for us. However, most fish contain an important source of omega-3 fatty acids. Salmon, trout, sardines and herring are save to eat more than once a week. Others are good to eat once a week only.
Some fish is not suitable to eat for women who are or may become pregnant, nursing mothers, and young children because of the high Mercury content. They are Mackerel (King), Marlin (imported), Shark Swordfish (imported), Tilefish (Gulf of Mexico, South Atlantic), Bluefin Bigeye (imported), and Yellowfin (imported).This is for information only! Please check with your doctor.