Basically, Thai foods present many different sorts of tastes and flavors. Most of the Thai foods are prepared with the delicate combination of spices and herbs. Hence, this food is generally well-known for its being spicy, hot and even healthiness. Usually Thai foods include a little bit rice that is escorted by some other dishes. And also there you find a curry, a salad, a fried or steamed dish, a soup and many more sauces. But amongst all, their special Thai soup is especially delicious and desirable by people.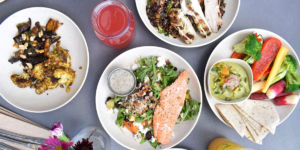 To make Thai foods, the use of coconut is very important. In fact, coconut is used in approximately all of the Thai dishes. Most of the southern people use the coconut in a different way for making Thai food. Normally they use coconut oil, coconut milk as well as coconut meat. The milk of coconut is using for making curries and the coconut oil is using for frying. And they use the coconut meat for adorning and garnishing the foods. These coconut ingredients provides extraordinary flavor to the foods.
Though Thai food varies from county to county, most of the Thai people like to eat steamed foods which are includes fresh and clean vegetables and fishes. Moreover Thai food like noodles is exceptionally admired in Bangkok.  And each time I used to see many visitors at restaurant who are enjoying the food and its price as well.
In reality, some Thai foods are really beneficial to our health. One of the Thai foods namely "Tom Yum Soup" is now under the scientific research since the soup is good for health. Definitely, we know that various sorts of different unique spices and herbs are used in the Thai cuisine like galangal, turmeric, coriander, chilies and fresh lemongrass. These ingredients have extreme power of disease-fighting. I believe that Thai food is actually one of the most delicious foods that I have ever eaten.