You will find easy vegetable recipes to make baked, quick stir-fry and steamed vegetables for your best healthy meals. Eating delicious healthy dinners with Brussels sprouts, broccoli, onions, green beans, carrots and more greens are essential to good health!
Include beneficial healthy vegetables and fruits in your daily diet, you can prevent cancer and other diseases. These nutritious foods are easy to cook and fun to mix and match for quick and tasty side or main dishes for healthy eating.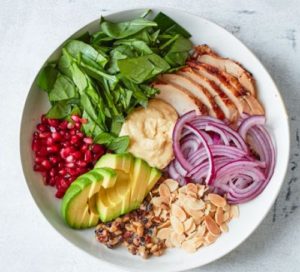 Vegetables are my favorite healthy easy meals. I have a variety of easy recipes in my healthy menus to cook greens every day. Check out my best, quick and easy healthy vegetable recipes.
Brussels Sprouts Stir Fry
Cook time: 2 to 4 minutes (To avoid overcooking, keep stirring and stop cooking when the sprouts are still bright green)
Ingredients :
1 to 2 tablespoons olive oil
1 clove of garlic
1/2 teaspoon dried thyme
10 ounces medium-sized Brussels sprouts, trimmed and halved (leave very small sprouts whole)
3 tablespoons balsamic vinegar
2-3 tablespoons water
Pinch of salt to taste (optional)
In a wok or large pan, heat the oil. Add garlic, thyme and sprouts and stir-fry for 30 seconds. Add the vinegar and 2 tablespoons of water and keep stirring. Cover, lower the heat slightly, and steam over medium-high heat until sprouts are tender-crisp, about 2-4 minutes. Check every minute so you do not overcook. Give it a quick stir, add more water if the sprouts are not done or seem dry. Season with salt, if desire.
---
Green Beans with Onions
Here is another fast and easy vegetable recipe for your healthy dinner. It takes 10 minutes to prepare and cooking time is about 10 minutes. It serves about 4.
Ingredients :
9-ounce package frozen cut green beans to save time(I like to use fresh green beans about 3/4 pound)
1/2 teaspoon dried marjoram
1 onion, chopped
1 garlic clove
2 tablespoon water
1 tablespoon olive oil or tub margarine
If you are using frozen green beans, follow the package instructions. For fresh beans, break off the two ends and cut beans in half. Heat pan put in olive oil, garlic, green beans and marjoram then add 1 tablespoon water. Stir and cover to cook for 1 minute. Add onions to the beans and stir and cook for a few more minutes until beans are tender-crisp. If beans seem dry add a little more water and stir. Meal is done!
---
Baked Zucchini-Tomato
This vegetable recipe makes a one pot meal that takes a little longer to cook but it is worth the wait. An easy meal good to add to your healthy eating menus. It takes 10 minutes to prepare and about 40 minutes to cook. You can make 8 servings.
Ingredients :
4 tablespoons margarine
1 onion, chopped
2 large zucchini, sliced in ¼ -inch
3 tomatoes, chopped
1/4 pound mushrooms
1/2 teaspoon basil
3 tablespoons chopped parsley
Garlic salt and pepper to taste
1/4 cup Parmesan cheese
1/4 pound reduced-fat sharp cheddar cheese, grated
Preheat oven to 350°F. In a nonstick pan melt the margarine over medium heat. Stir the mushroom with the onion with the margarine. Put in the zucchini and sauté until tender. Mix in the tomatoes, basil, parsley, garlic salt, pepper, and Parmesan cheese.
Place the sautéed vegetables in a 2-quart casserole dish sprayed with nonstick vegetable spray. Top with cheddar cheese. Bake for 20-30 minutes. Your yummy dinner is done!
For quick stir fry veggies, try this easy recipe for Swiss chard, broccoli, mustard greens, spinach, kale and collard or use your favorite greens to make fast healthy meals for dinner in minutes.
Vegetarians would love this low carb recipe for curried mustard greens with tofu to make satisfying diet meals.
Take a look at these recipes for healthy eating. They will help you make healthy choices like fresh squash, broccoli and asparagus for your healthy diet meals.
Vegetarian delight, use these quick and easy healthy recipes to cook fast dinner for your family supper.
---
I like to add another steamed carrots to your healthy eating menus that is on my dinner table at least twice a week. The sweet and fresh flavor of carrots is irresistibly delicious, plus the important vitamin A in carrots can protect your eye sights. This vegetable recipe takes 5 to 10 minutes to cook.
Ingredients :
2 pounds carrots, peeled and cut into 1/2-ich slices (to save time, baby carrots are good options)
1/3 cup sesame vinaigrette
1 tablespoon fresh lemon juice
Pinch of pepper
To prepare, in a saucepan large enough for you to put a steaming rack, pour 1 cup of water in the pan. Cover, cook in medium heat, place the carrots slices or baby carrots on the rack and steam until they are tender, about 5 to 10 minutes. If you like your carrots soft cook it a little longer but not too long. May be a couple more minutes. Transfer the carrots to a dish, while the carrots are still warm, pour the sesame vinaigrette and mix. Let the mixture cool off and serve with fresh lemon juice. Have fun cooking your low fat veggie meals.